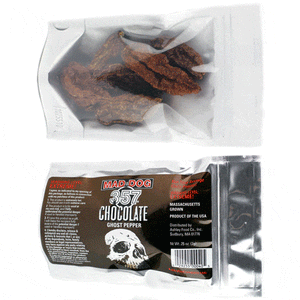 Mad Dog 357 Chocolate Ghost Pepper Pods 6/7g Packs
Regular price
$21.00
$0.00
Unit price
per
Mad Dog 357 Chocolate Ghost Pepper Pods 6 packs/ 7 grams each. 
Locally Grown in Massachusetts. The Chocolate Bhutlah may be the next pepper to take the Guinness World Record for the hottest pepper in the world. At the time of this writing, that title belongs to the Carolina Reaper. However, reviewer after reviewer indicates that the Chocolate Bhutlah pepper is wildly and wickedly hotter than the Carolina Reaper.

At Ashley Food Company Wholesale, we do one thing. We make great-tasting and award-winning hot sauces, extreme hot sauces, and pepper extracts. We make each sauce in hand-measured, small batches to ensure incredible flavor and quality. All of our products are made in the USA, using only the finest, all-natural ingredients.
---