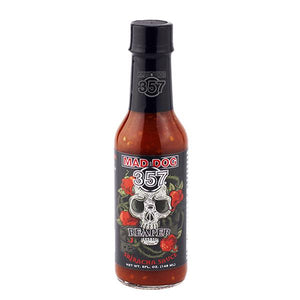 Mad Dog 357 Reaper Sriracha Sauce 12/5oz
Regular price
$60.00
$0.00
Unit price
per
The Mad Dog team has done it again.
This time we've taken the fastest growing style of hot sauce – Sriracha and given it a kick that you can't ignore. It's flying off the shelves and revolutionizing modern menus across the country. But even if you've tasted Sriracha, you've never experienced it like this.

Each bottle is packed with Carolina Reapers, officially recognized as the World's Hottest Pepper in 2012. This sauce doesn't tiptoe across your tongue the way other Sriracha sauces do; it pounces. Not only does it boast the world's hottest chili peppers, but it's also got all the quality, flavor, and fire that you would expect from a Mad Dog hot sauce. Consumers have no choice but to stock up on this sauce; they fall in love with it quickly. Each case contains: 12/5 Fl. Oz.

Ingredients: Red Jalapeño puree (red Jalapeño, salt, acetic acid), Cayenne sauce (aged Cayenne peppers, distilled vinegar, salt, xanthan gum, garlic), natural sugar, Carolina Reaper peppers, garlic, and xanthan gum.


At Ashley Food Company, we do one thing. We make great-tasting and award-winning hot sauces, extreme hot sauces, and pepper extracts. We make each sauce in hand-measured, small batches to ensure incredible flavor and quality. All of our products are made in the USA, using only the finest, all-natural ingredients.

---