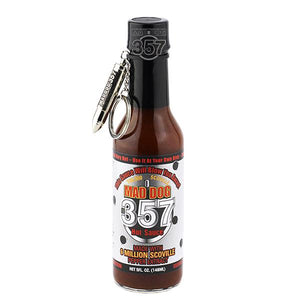 Mad Dog 357 Silver Edition Hot Sauce 12/5oz
Regular price
$120.00
$0.00
Unit price
per
No extreme hot sauce collection is complete without the World's Hottest Hot Sauce.
Aficionados around the world know the title belongs to 357 Mad Dog Collector's Silver Edition. This sauce packs an out-of-this-world 750,000 sizzling Scoville Heat Units (SHUs).

There's even a golden bullet on a key chain around the neck of each as a reminder that Mad Dog 357 Collector's Silver Edition is a killer concoction. Inside the bullet, there's a secret tasting spoon making this a must-have bottle for every hot sauce lover. But, it's not just the bottle that will have customers returning for more; this is a delightfully complex sauce that quickly becomes addictive. Each case contains: 12/5oz

Ingredients: Distilled vinegar, chile extract, evaporated cane juice, fresh Habanero peppers, garlic, onion, 160,000 Scoville Cayenne pepper, spices, and xanthan gum.


Each individual unit also features a disclaimer for retailer protection.

At Ashley Food Company, we do one thing. We make great-tasting and award-winning hot sauces, extreme hot sauces and pepper extracts. We make each sauce in hand-measured, small batches to ensure incredible flavor and quality. All of our products are made in the USA, using only the finest, all-natural ingredients.


---