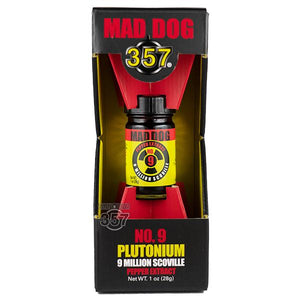 Mad Dog 357 Plutonium 9 Million Scoville Pepper Extract
Regular price
$74.99
$0.00
Unit price
per
WARNING - DO NOT CONSUME DIRECTLY - FOOD ADDITIVE ONLY!
The finest wine, the best cigar, the most delicious steak—a food seller needs to have the good stuff on hand for aficionados who won't settle for less—and are willing to pay a premium for it. Welcome to Mad Dog 357 Plutonium No. 9 Pepper Extract. At 9,000,000 Scoville Units, it delivers the hottest chili pepper extract on the face of the earth. And the purest. A single drop of this clear extract will send your customers to the moon—almost literally. And the retro nuclear packaging will catch their eye. You need this weapon in your arsenal of products. 1/1oz. 
Please note 9  Million Scoville Pepper Extract is 60% pure capsicum and it comes in as a solid and we heat it to be able to pack this product. It is normal for it to become hard or solid.
Please note you may have to warm the bottle to 140℉ to be able to remove the pepper extract from the bottle.
At Ashley Food Company Wholesale, we do one thing. We make great-tasting and award-winning hot sauces, extreme hot sauces, and pepper extracts. We make each sauce in hand-measured, small batches to ensure incredible flavor and quality. All of our products are made in the USA, using only the finest, all-natural ingredients.
---